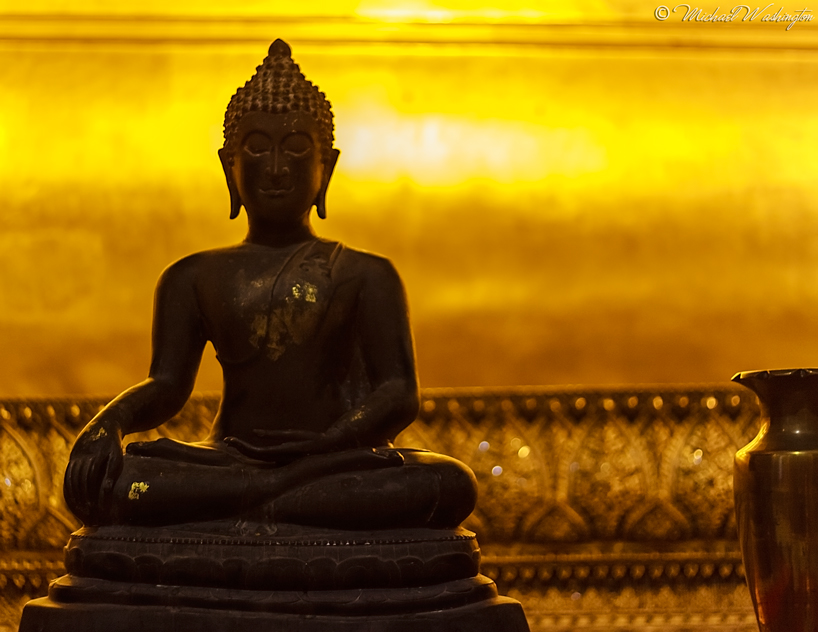 A tiny meditating Buddha statue in front of the reclining Buddha
 
A Journey Through The Spirit of Bangkok
 
It is with great pleasure that I am releasing more photos taken on my 2010 trip to Thailand! 
 
What started as a five day layover turned into a seven day adventure. I had originally extend a 7 hour layover flying from Bali to Bangkok to get to Cairo so that I could better experience a bit of Thailand for the first time. I explored Bangkok every day and night on foot in Adidas cross trainers with a backpack on carrying extra weather appropriate clothes, sandals, a rain poncho, Timberland boots (just incase) and camera gear at hand. I filled most of every day going to temples, shrines and other historical places in the Phra Nakhon district, next to the Chao Phraya river, to admire the architecture, visual art and monuments, then I retreated to markets and restaurants during the rain although in my opinion, the best food was from the street food cart vendors. I did ride the BTS skytrain to venture into the city a bit and I rode a tuk-tuk a few times if it was raining and I was stuck with camera gear.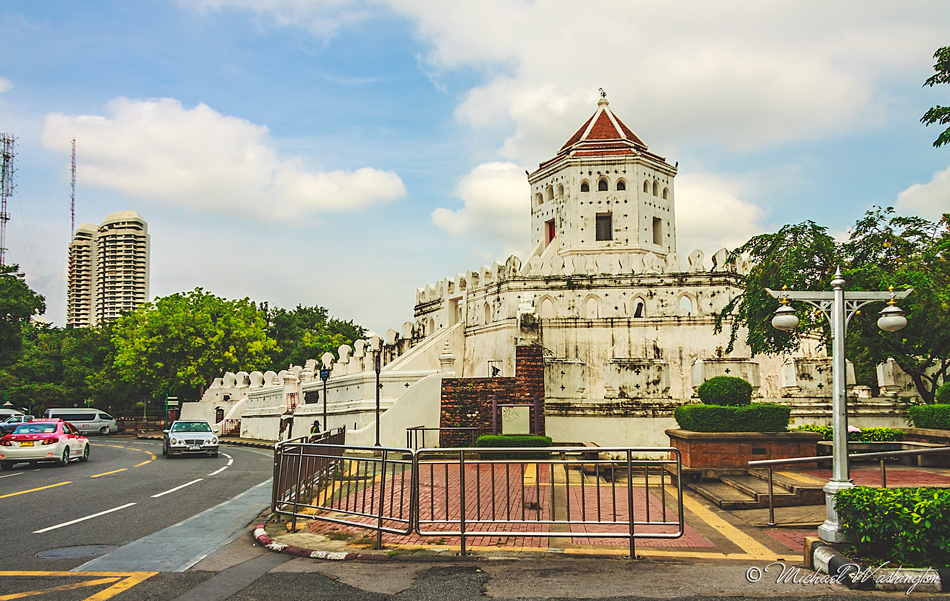 Phra Sumen Fort next to the river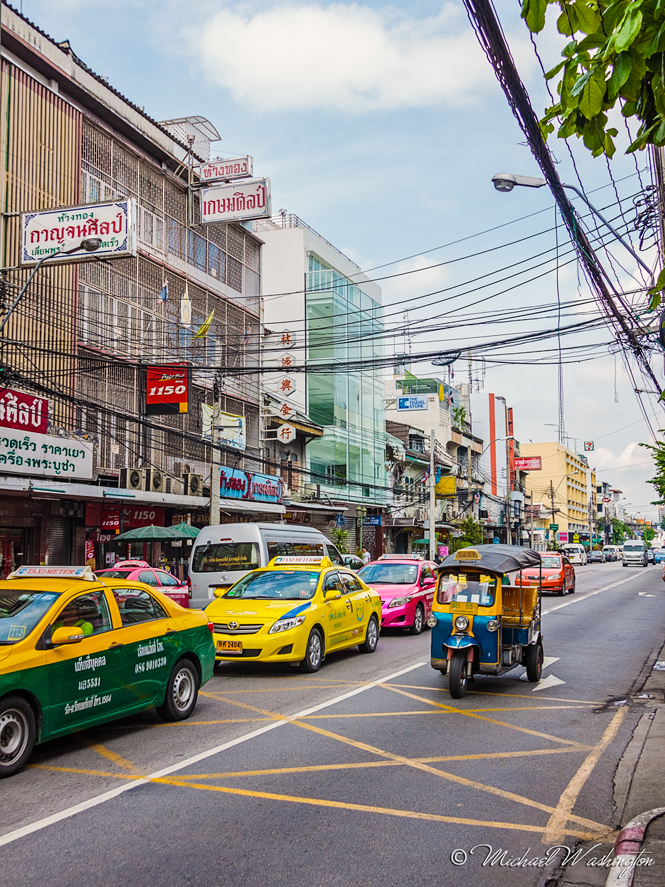 Phra Sumen Rd by my hotel
The Temples
The first Wat (temple) that I visited was Wat Biwonniwet Vihara down Phra Sumen Rd just a short walk from my hotel. There is this amazing structure with a height of 50 m covered in gold mosaic tiles called a chedi that enshrines sacred relics.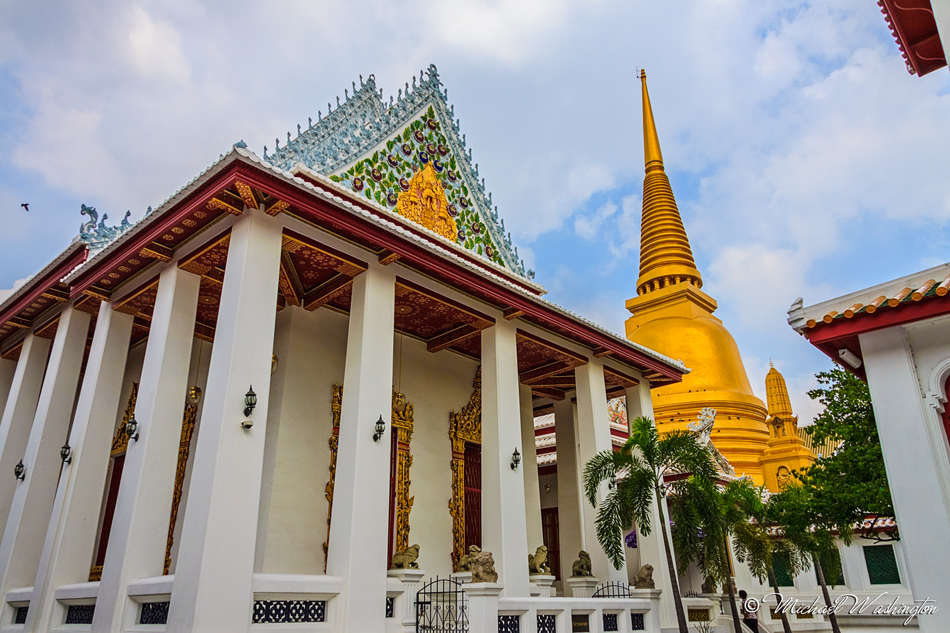 Wat Bowonniwet Vihara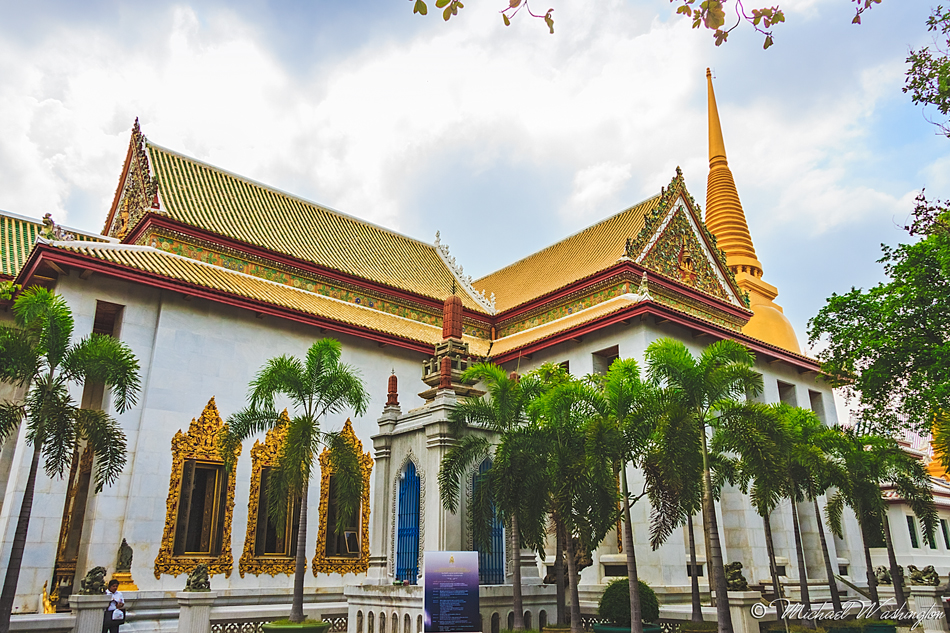 A side view of the main hall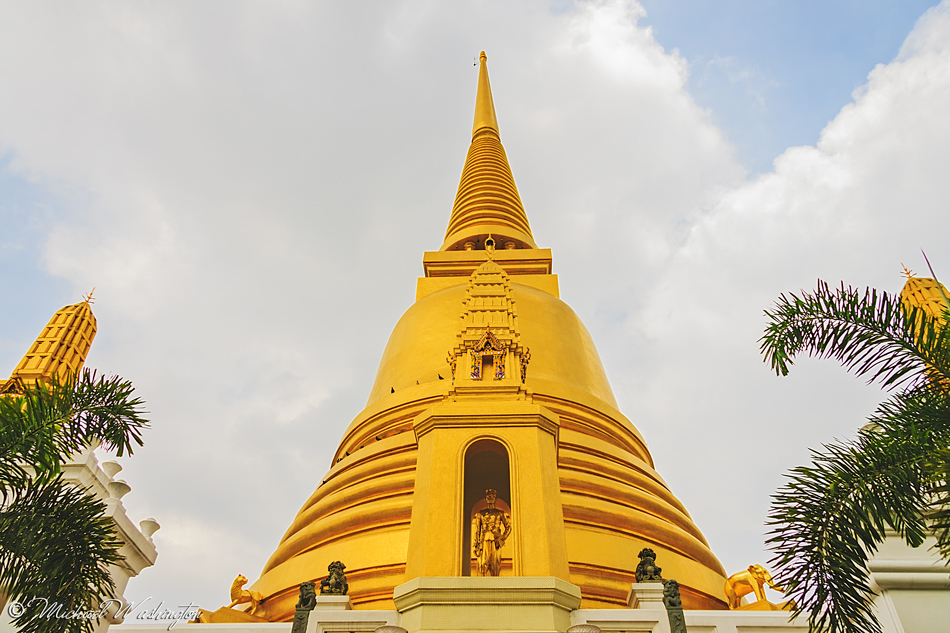 The Great Cetiya (golden chedi shrine)


 On to Wat Pho, just a few blocks southwest of my hotel and next to the Chao Phraya river, this temple has many incredible structures, statues and monuments. The temple grounds are adorned with Chedis (shrine monuments), statues of the Buddha and even Chinese guard statues and a Chinese garden. Wat Pho, also known as the Temple of The Reclining Buddha, is a UNESCO Memory of The World Programme site.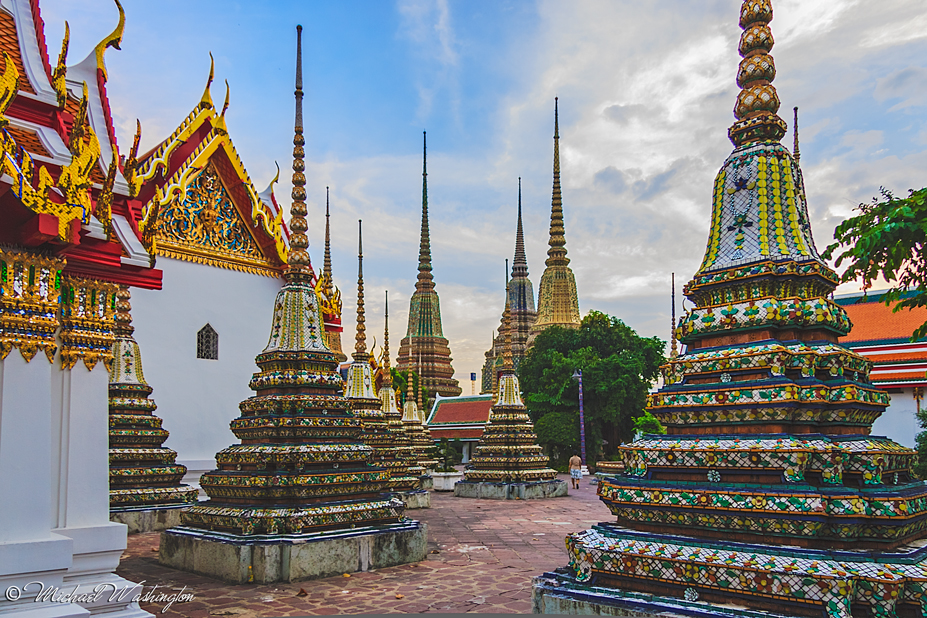 Chedis of Wat Pho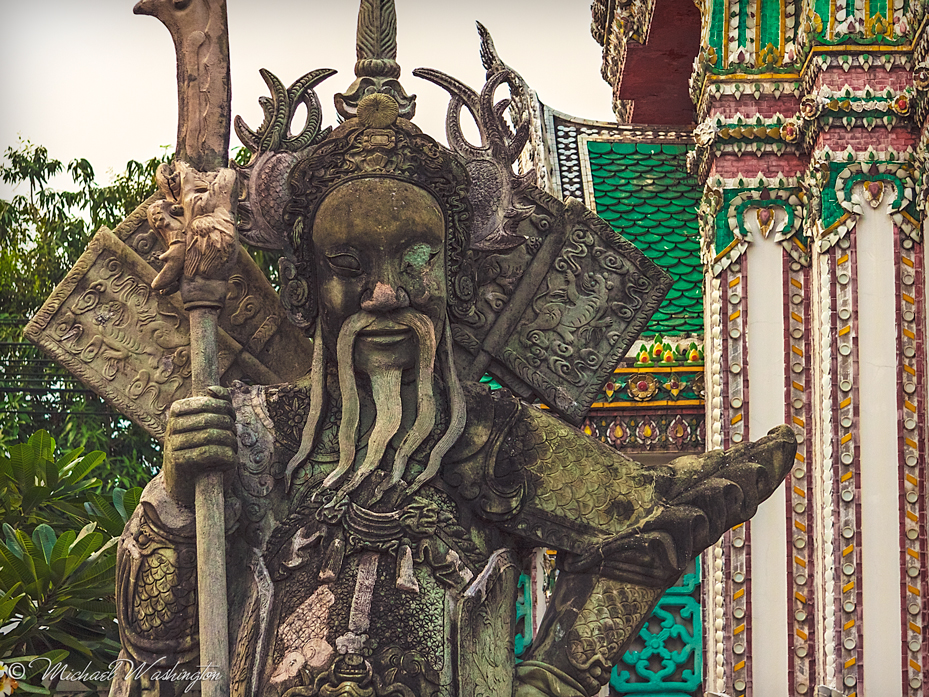 Chinese Guardian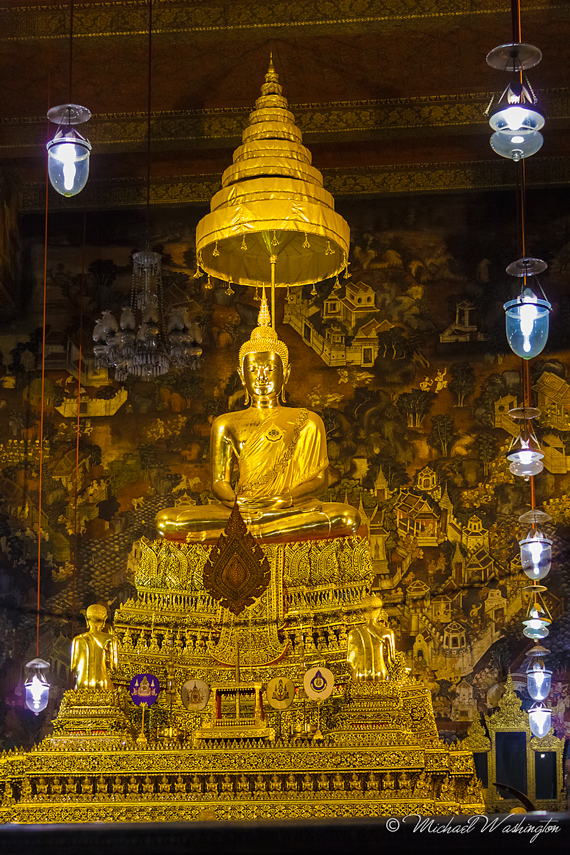 Phra Ubosot of Wat Pho
There are many statues of all sizes of the Buddha sitting and meditating within the temple complex but the most incredible one was the very large (46 meters long) reclining Buddha which symbolizes his entry into Nirvana and the end of all reincarnations. The soles of the feet of the Buddha are 3 m high and 4.5 m long, and are inlaid with mother-of-pearl artworks.The paintings on the walls within the hall depict the teachings of the Buddha through his journey to awakening (enlightenment) and it also tells stories of Thai history and folklore.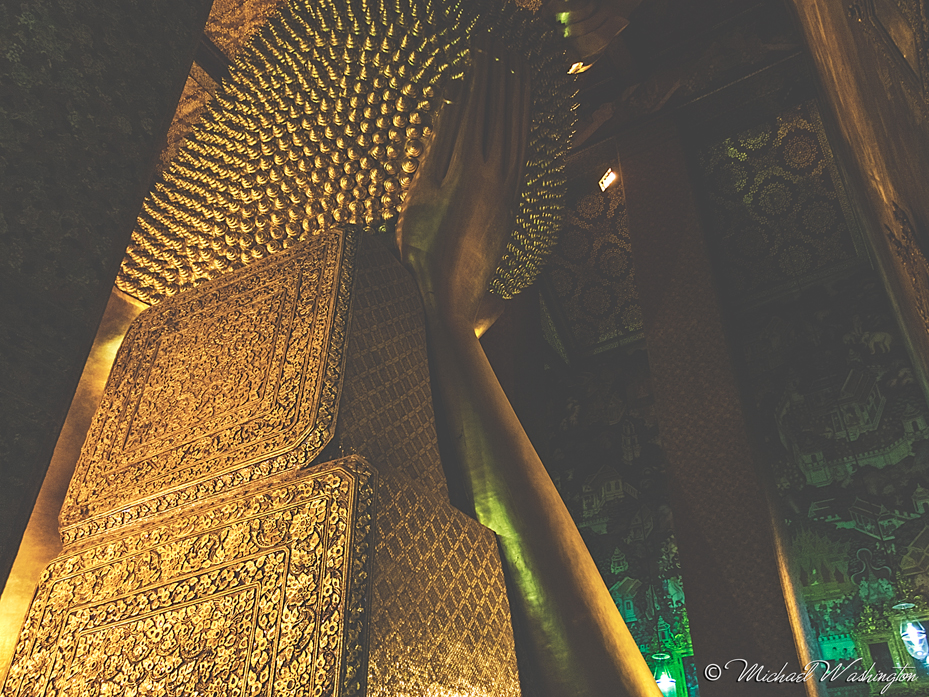 Entry Into Nirvana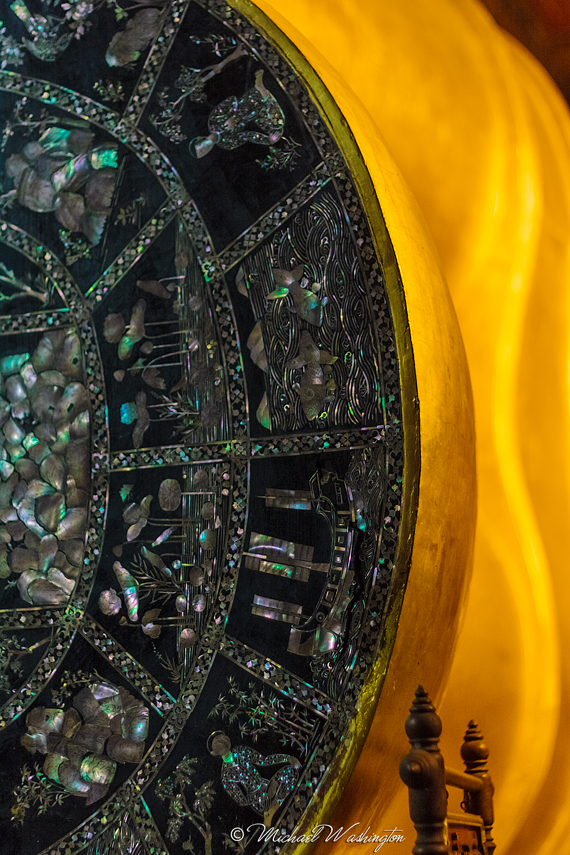 The Path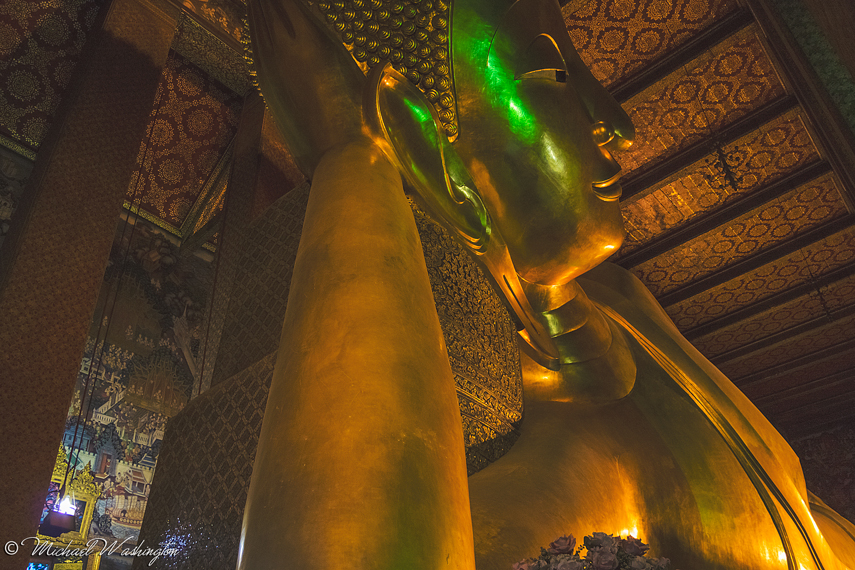 Buddha Perspective
Politics And History
Not too far from Wat Pho and on the main Avenue of Phra Nakhon district is the Democracy Monument built in 1939 just after the Siamese revolution of 1932 which led to the establishment of a constitutional monarchy in what was then the Kingdom of Siam which later changed it's name to (Kingdon of) Thailand. Thai means "free man" and in some dialects means "people". Many years of military dictatorships from 1932 to 1973 led to many college student protests and demonstrations that led to the popular uprising of the14th of October 1973 when Seventy-seven student were killed and 857 were injured by the military. In recent history through multiple military coups, this site has truly become a rally point  for people to fight for what they believe is right. Just across the street is the 14th of October Memorial honoring their memory.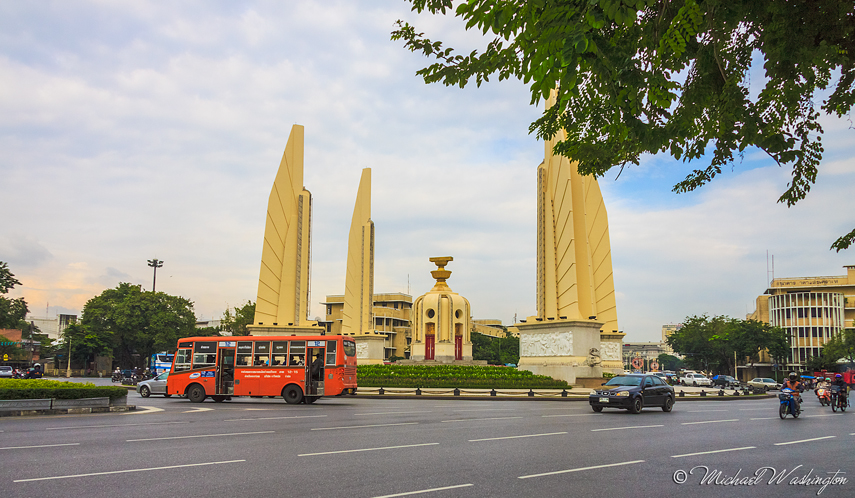 The Democracy Monument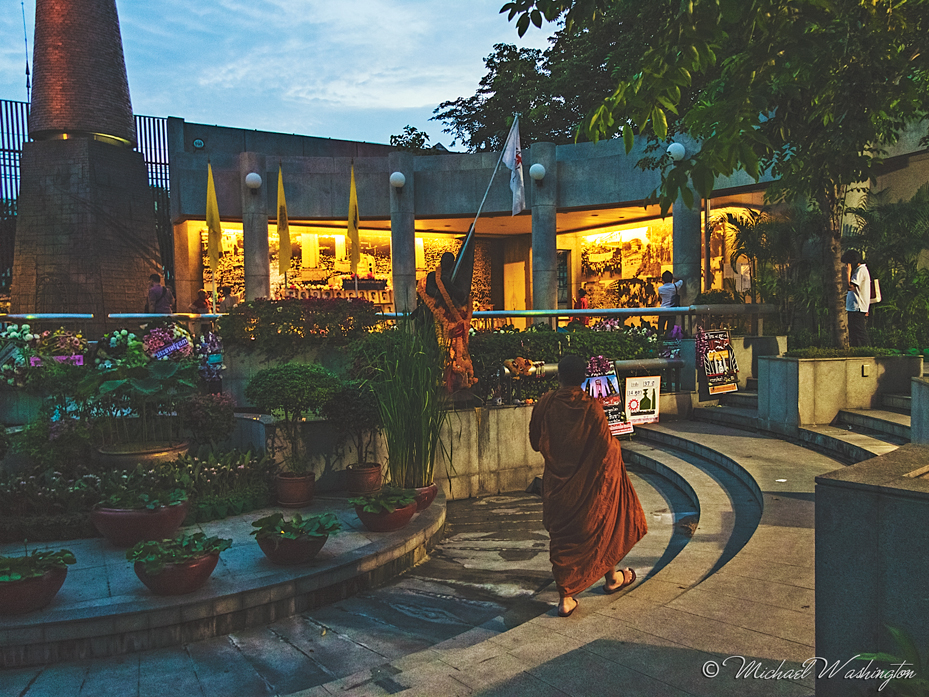 A Monk's Homage To The Day of Sorrow at the 14th of October 1973 Memorial
The Streets
My daily walks around Bangkok in the warm,sunny but slightly (or really cloudy when it rained..) cloudy weather presented many opportunities to work on my street photography skills. I found a few Muay Thai kick boxing schools ran by "old school" fighters who all have multiple students who are national champions (in many countries) and world champion Thai kick boxers and MMA fighters, my back and legs were rejuvenated with legit Thai massage and of course, all of that will make you hungry so eating lunch and dinner from food carts were a daily treat.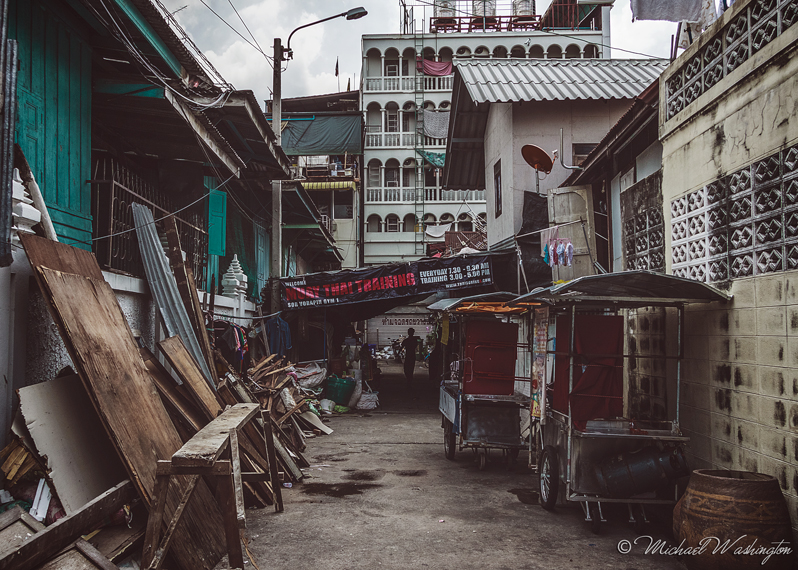 The School of Hard Knocks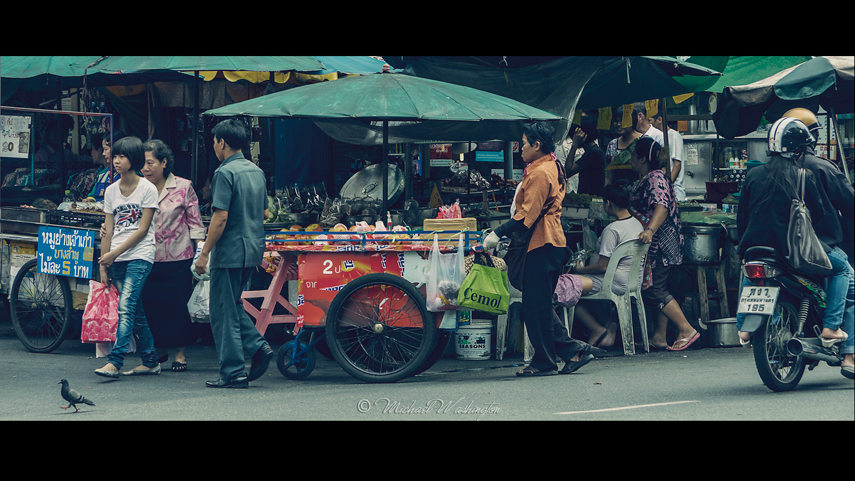 Moving Through The Day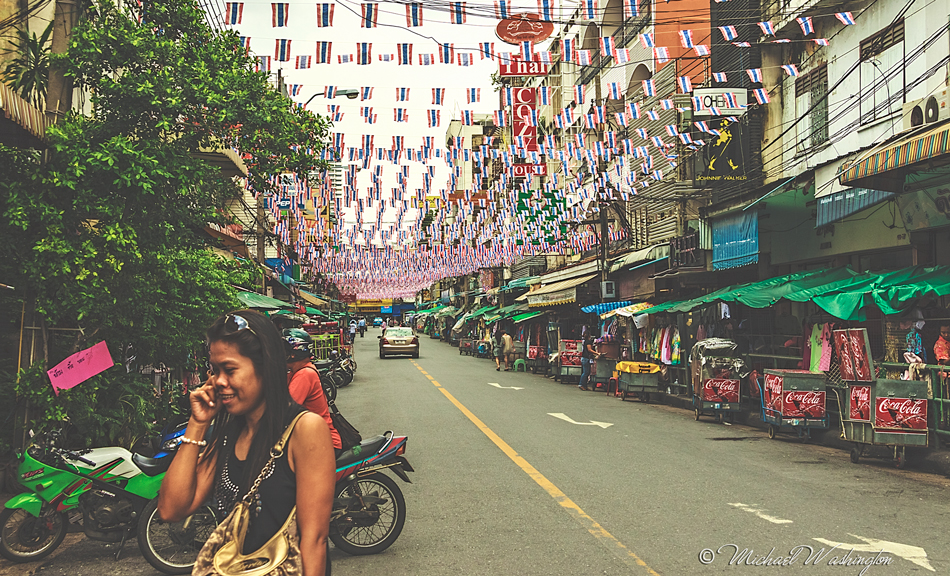 Let's Meet for Lunch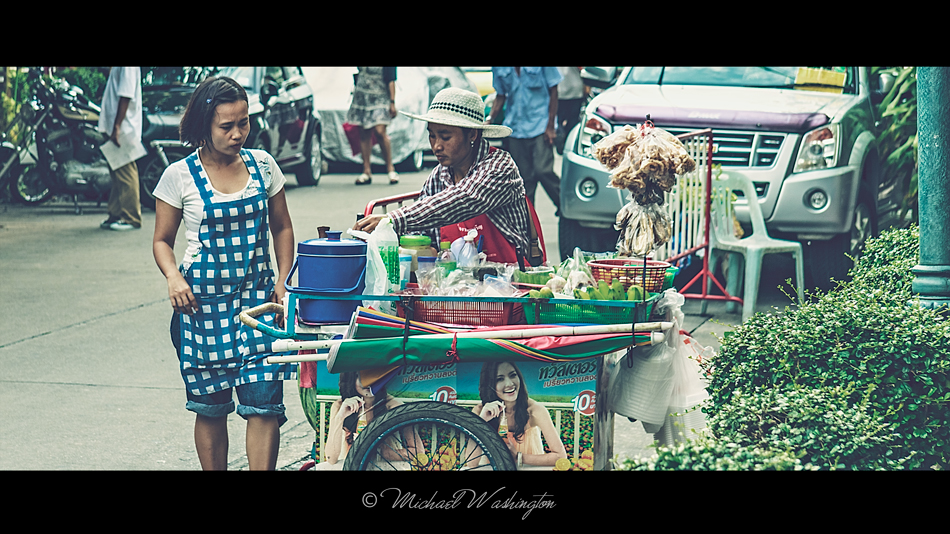 Khaosan Masters of Pad Thai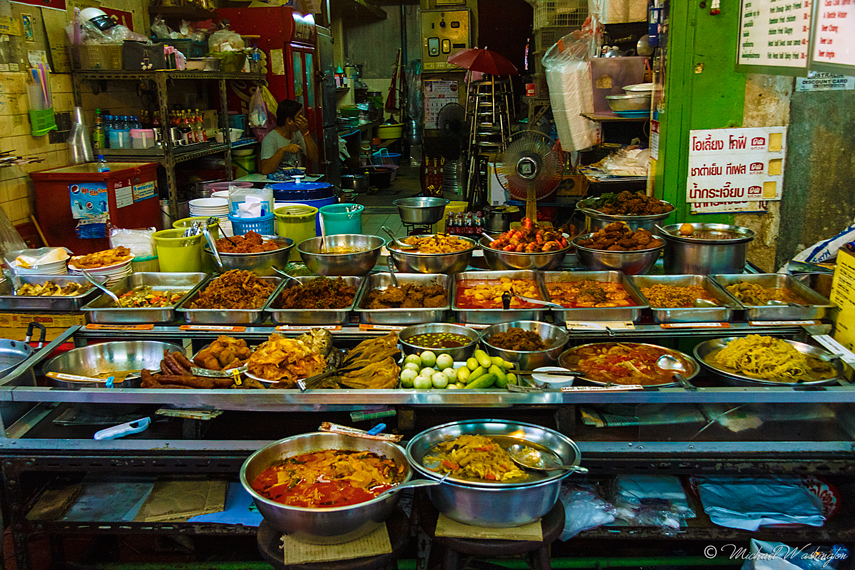 Thai Food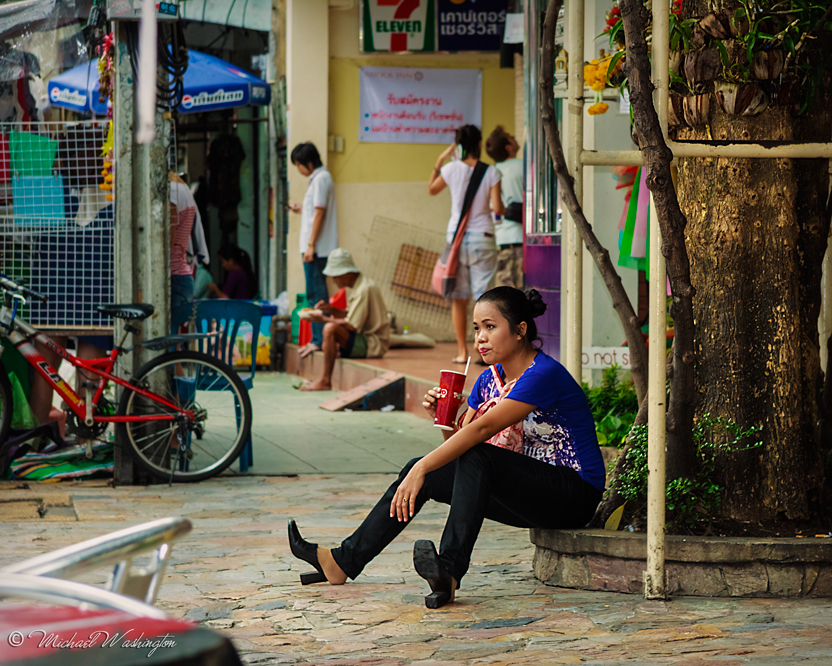 Relaxing After Lunch On Khaosan Rd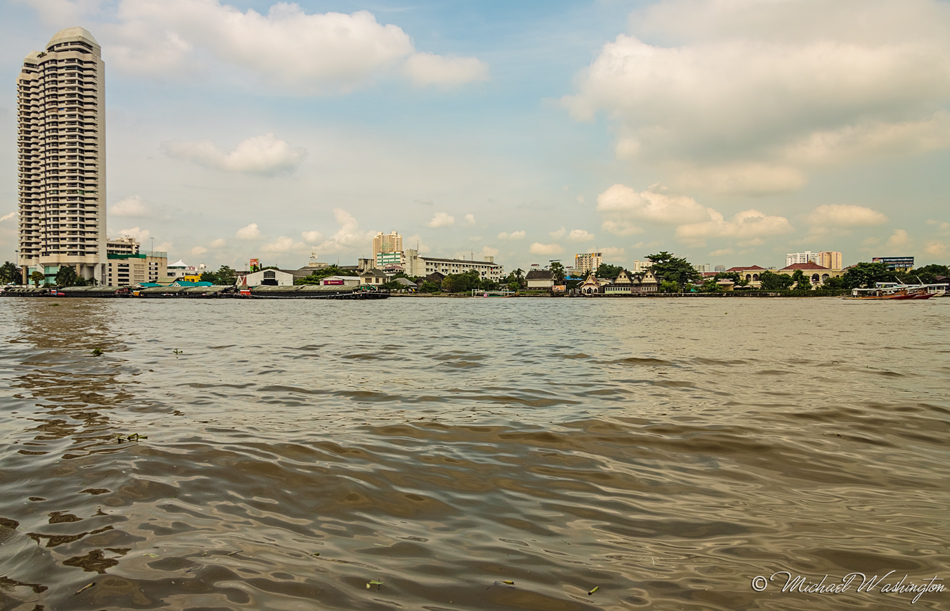 The Chao Phraya River
Such a rich culture the Thai people have created with fusions of food, philosophy, architecture and arts from it's neighbors all the way from India to China and the surrounding countries or regions of Malaysia, Tibet, Laos, Myanmar (Burma), Vietnam and Cambodia. With the help of my recent studies into Confucian and Buddhist Philosophies and through study of the history of the Kingdom of Thailand (a country that has never been colonized) and it's many name changes, I am beginning to better understand some of the culture of this part of Thailand a little more. Digging deeper into information on the places in Bangkok that I walked around and photographed, learning how they got there, why and who built or inspired these places definitely brings a refreshing quality of mind and it also makes the viewing of these finished photos a much more enlightening experience.