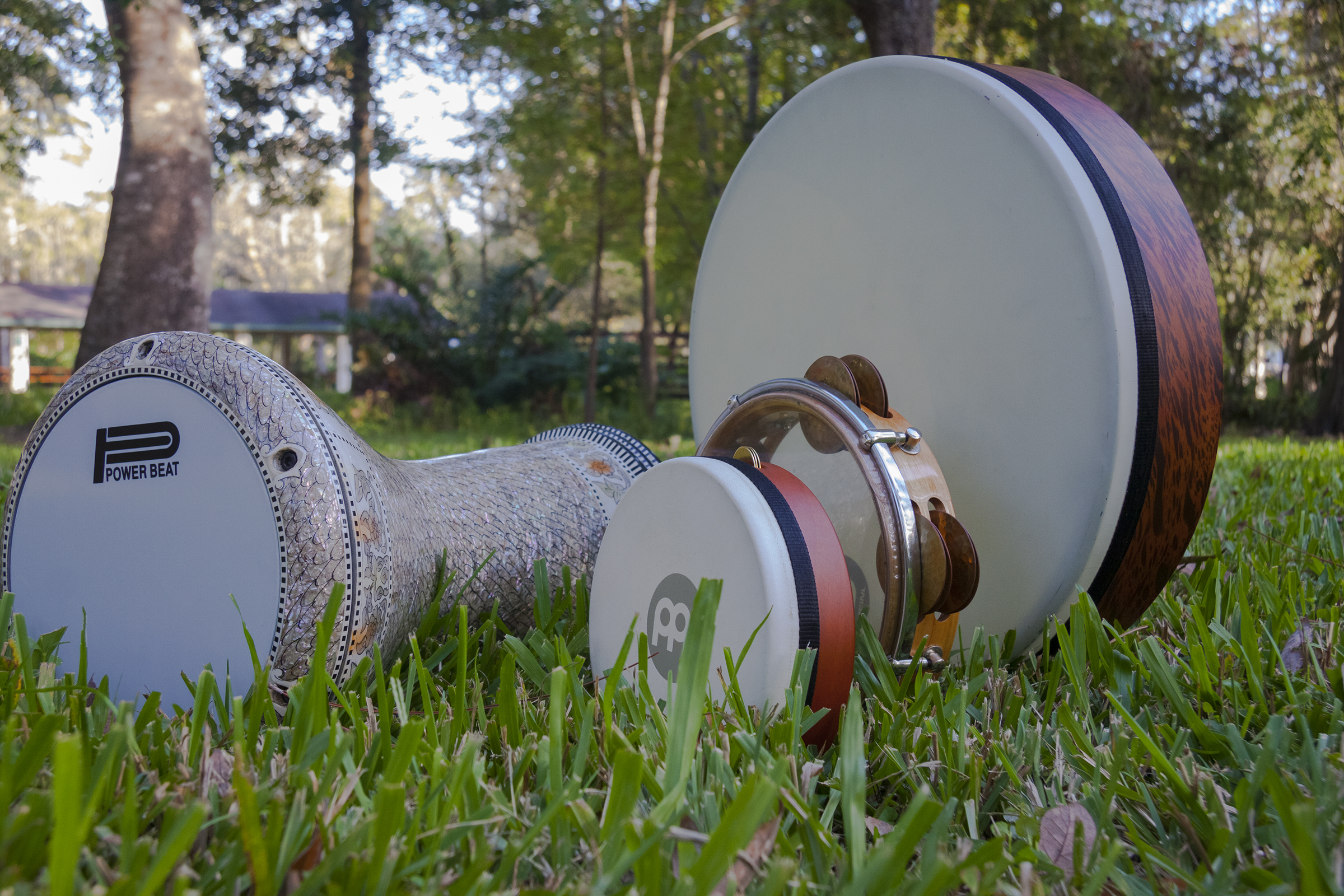 I am taking more time to dive deeper into the music of the hand percussion lessons and studies that I started in 2007. I am mostly doing it to help keep some of the histories fresh in my mind and for those histories to become real knowledge that I can fully share and not just bits and pieces of memorized lessons. On the other side of things, I of course want to be a much better player in the near future than I am today and keeping a detailed focus on fundamentals of techniques as for sound quality and the proper "feel" for the rhythms will facilitate that.

My studies on North African/Middle Eastern percussion consist of the music of:

Egyptian
​

Hamza El Din, The riq playing of Mohamed Elarabi with Um Kalthoum and the Mohamed Abdel Wahab orchestra, Hassan Anwar, Khamis Henkish, Hossam Ramzy and Hisham Elarabi. 
Persian
Ostad Hossein Tehrani, Peyman Nasehpuor and Nagmeh Faramand.   
​Turkish
Misirli Ahmet, Levent Yildirim, Zohar Fresco, brothers Hamdi and Mehmet Akatay, Hakan Kaya
​General Frame Drum/Fusion of Styles
Glen Velez, Layne Redmond, Yshai Afterman and David Kuckhermann
​
My Studies on West African percussion consist of the teachings and music of:
Bolokada Conde,

 

Adama Drame, Abdoulaye Diakité, Famoudou Konaté, Mamady Keïta, Doudou N'Diaye Rose, Bayefall Revolution, Latyr Sy, You Dieng and Mamadou Lo
​My studies on Latin American percussion could be talked about in 2 or 3 blogs by itself but in short, it consists of the folkloric and popular dance music from:
Cuba
 Carlos Potato Valdes, Mongo Santamaria, Chano Pozo, Guillermo Barreto, Alberto Zayas and Eliel Lazo
​Brazil
Bezerra da Silva, Luiz Gonzaga, Nana Vasconcelos, Airto Moreira and Marcos Suzano
​
Puerto Rico/New York
Tito Puente, Ray Barreto, George Delgado, Willie Colon and Hector Lavoe
​
Argentina
Mercedes Sosa and Pedro Aznar
​
Colombia
Totỏ la Momposina and Fransisco Zumaqué
Hopefully I will finally make it to Cuba next year and possibly to Senegal in the winter of 2016/2017 but I feel that I should be further along in my playing of folk and dance styles (in depth), my knowledge of the histories of the music there and in speaking Spanish and French ​so that I can get more out of the trip. A full month in both countries would be perfect!

I will be sharing some videos within the next few months to show my playing progress and to talk about some of the musicians that I am learning from via books and recordings so stay tuned!