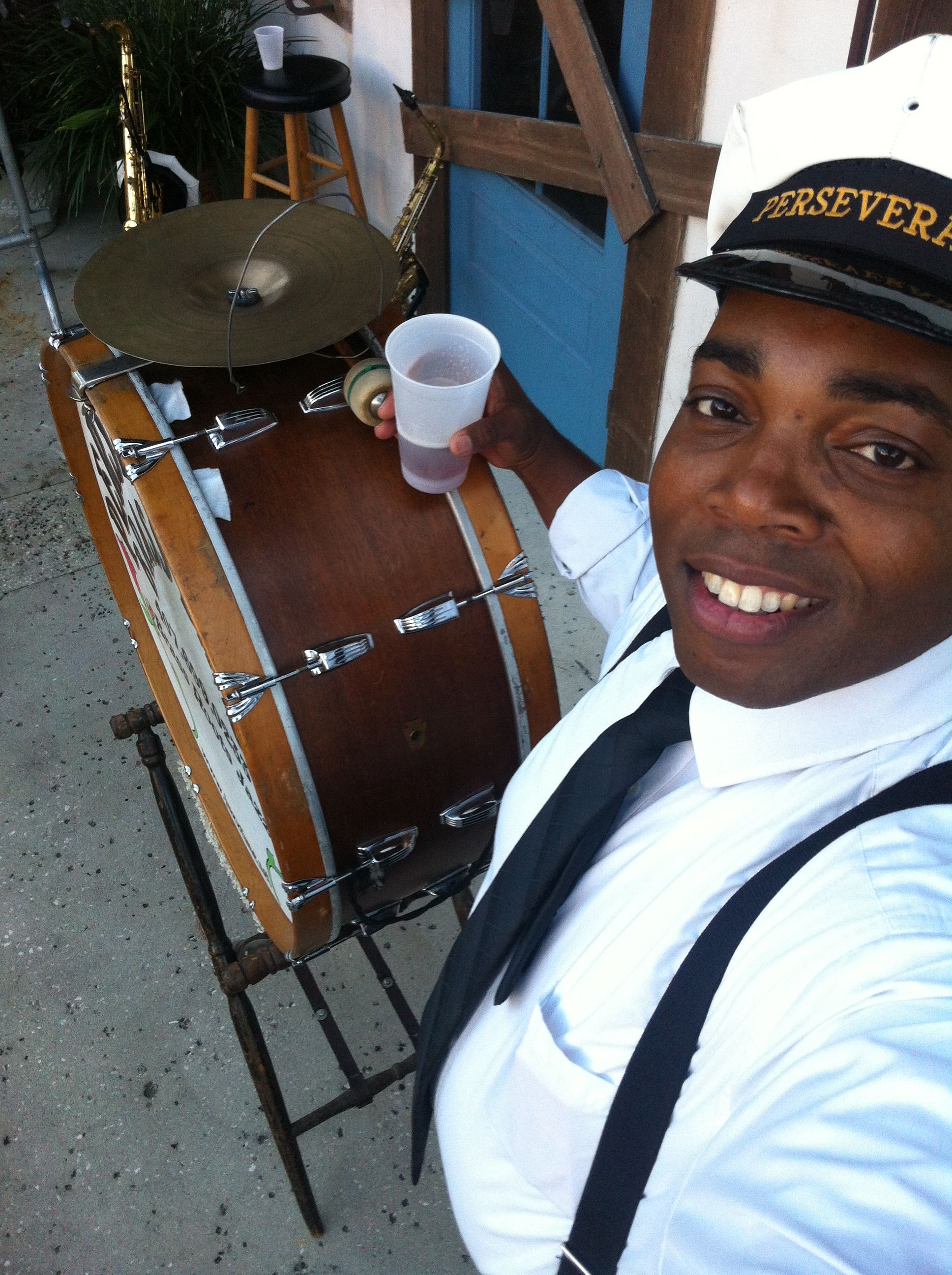 Its A NOLA Thang! How I got hooked to New Orleans Music.

I first began learning about this music from Kid Dutch back in 2003 and cut my teeth playing bass drum with his group The Perseverance brass band in Central Florida. I met Kid Dutch at a jazz jam back in 2001 in Orlando and a friend and great drummer Roger King introduced me to him. He had me come over and talked to me about the old Mardi Gras marching bands, played some Warren "Baby" Dodds recordings (which I still have and listen to) where Baby Dodds talked about the role of the two drummers in a marching band and the role of a drummer in a sit down band (Preservation Hall style) and demonstrated examples of playing a rag, playing a second line with the push on the & of 4, played examples of the New Orleans rumba, the "Momma Daddy" shuffle, how to support  the horn players during a solo, how to support the clarinet player and how to bring that fire in a chorus or ending.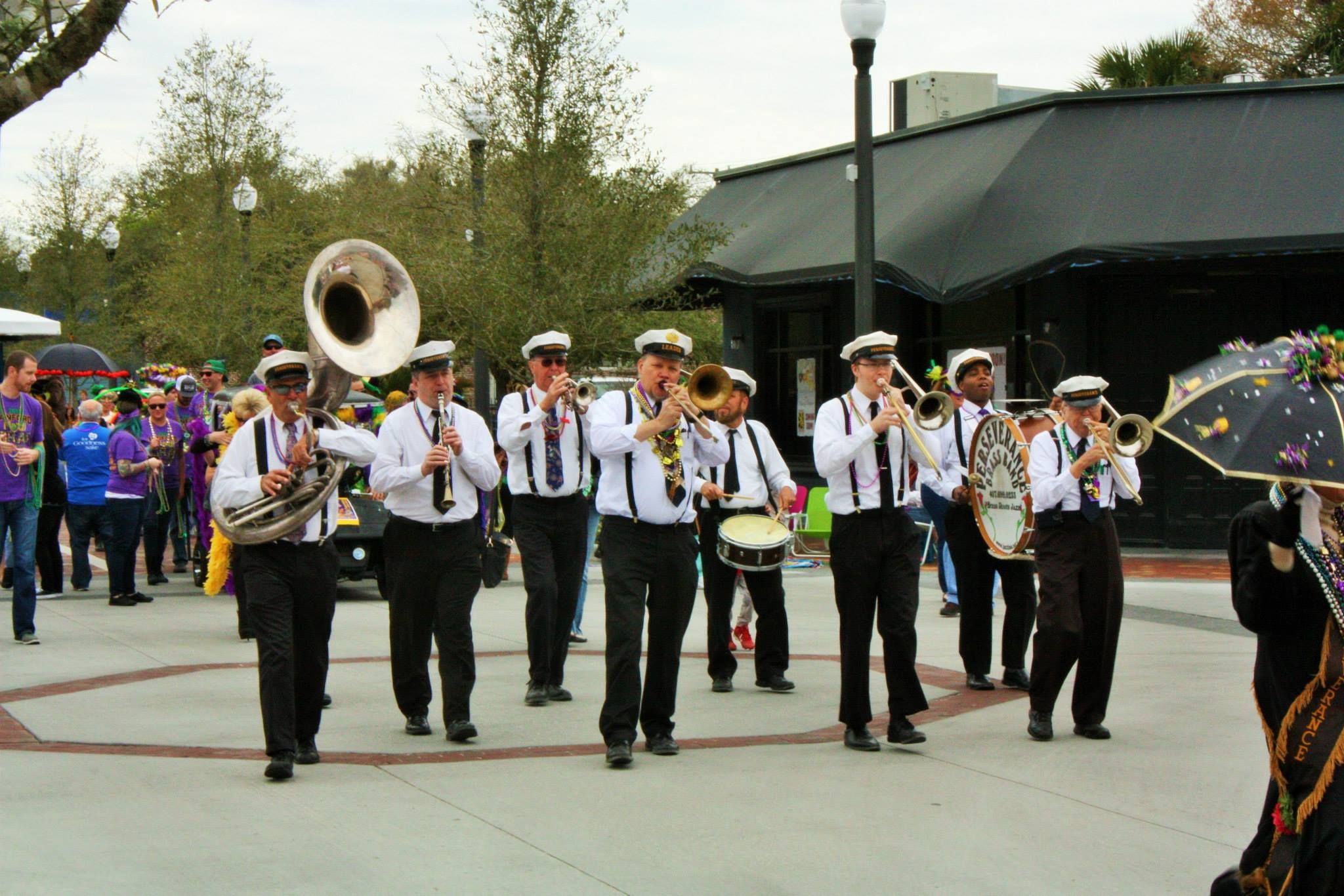 The Perseverance Brass Band

I got to travel to New Orleans 3 or 4 times in my 20s, once for a Disney special event for 2 days and man did we eat! I took some video on a Hi-8 camera of a few bands but that tape is long gone. A few other times I traveled there while I was teaching drum corps, we had a whole day of strolling around the French Quarter, seeing bands play on the Bourbon street, in Jackson Square, in restaurants and boy did we eat haha! The last time I was there, about 2 weeks before Katrina, I decided to try to get lost. I walked from Crescent Park, around the French Quarter to Congo Square, ran into a friend that I used to work on a cruise ship with who was doing the same thing I was while they were in port for the day. I went back through the quarter and stuck my head into any place that I heard music coming out of. I remember there was this record store in what looked like an old church building, full of LP's, 45's, cassette tapes and even some CD's. Man, I wish I had a good camera back then.
So I played with The Perseverance Brass Band at private events, Mardi Gras festivals and parades, funerals, at Italian festivals where we took that music and played it in the NOLA styles and the same for St Patricks festivals but of course, we threw in some old NOLA stuff too. I played with them for a few years and then ended up going back to Japan for a gig at Tokyo Disney Sea for about 5 years which gave me the opportunity to see everybody touring within and around the jazz world such as Herbie Hancock, Wayne Krantz, Pat Metheny Quartet, Ron Carter, too many to name, etc at places like Tokyo Blue Note, The Cotton Club, Billboard club, Tokyo Forum and many other great venues around the city. I also got to see and play at dance classes with some friends from Senegal, Mali, Guinea and Ivory Coast west Africa which is the main root of much of the Caribbean music created by people of the African diaspora.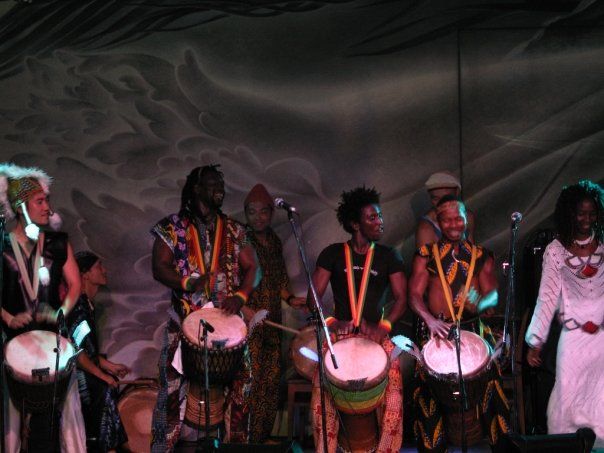 Karamoko Camara, Seikoba Keita, Nasdy Keita and Fanta Conate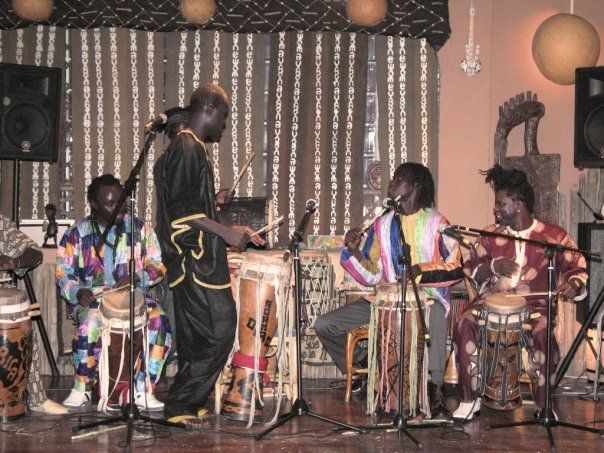 Oumar Guiende, You Dieng, Abdou and friends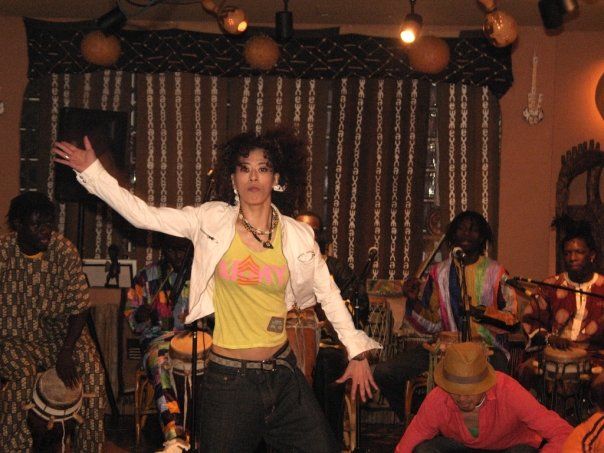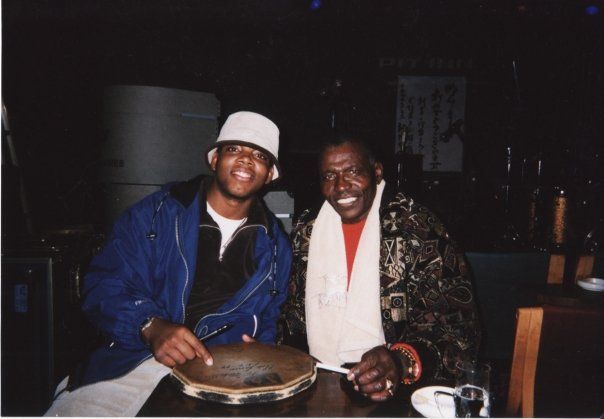 With Elvin Jones after a Jazzmachine concert Shinjuku 1999
Every Friday at The Hub in Shin Urayasu, I got to see Yoshi and Keiko Toyama who actually lived with Louis Armstrong and his wife starting back in 1963 after they finished university and got married. They spent years playing with many other greats at Preservation Hall and all around the French Quarter.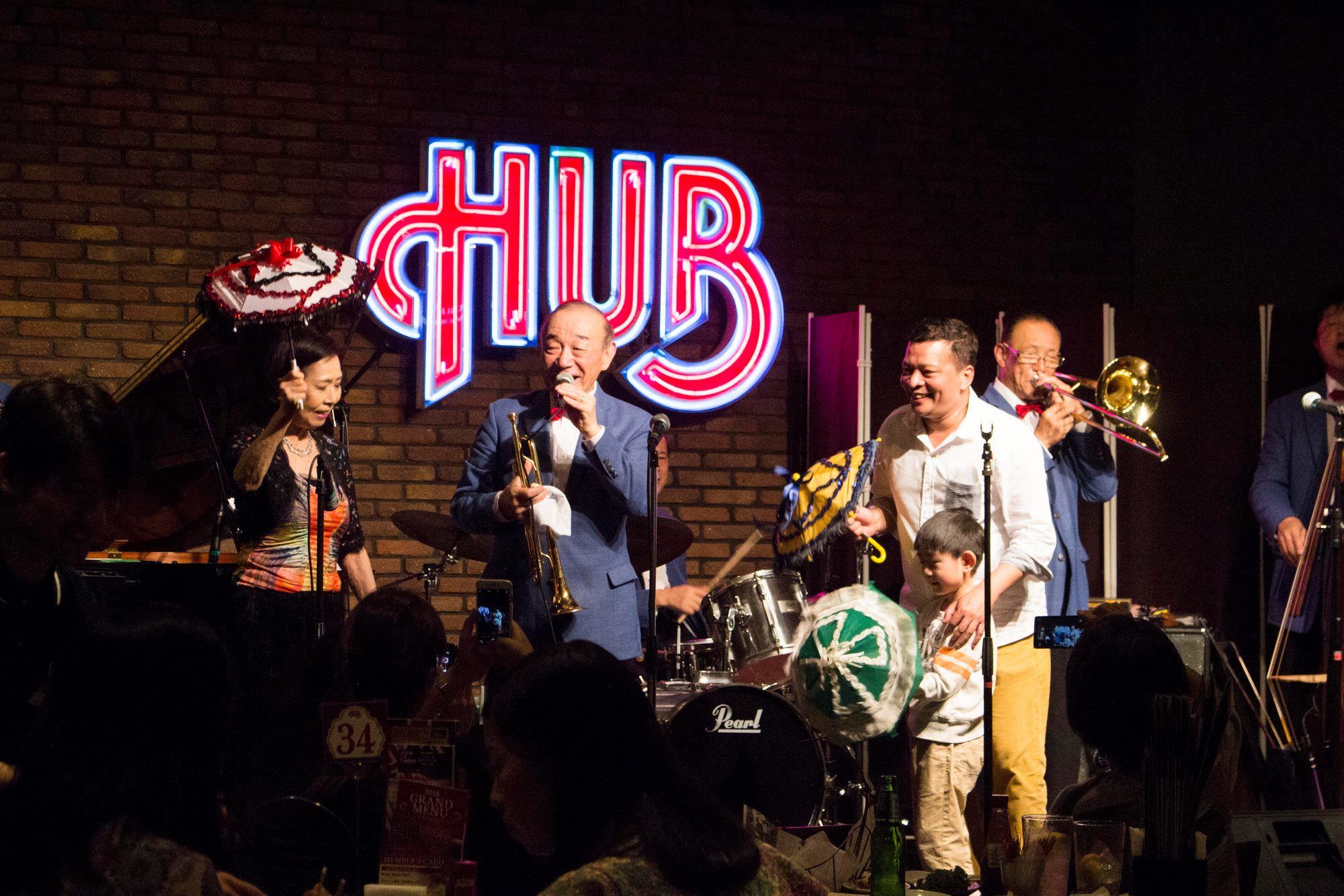 Yoshio & Keiko Toyoma playing at The Hub in Shin Urayasu, Japan
I found this DVD "New Orleans Drumming" featuring Johnny Vidacovich, Herlin Riley, Earl Palmer and Herman Ernest as well as Stanton Moore's "Take It To The Streets". I watched these religiously for a bit and listened to the textures they used and created, most importantly, the space they put between the notes (consistently or inconsistently) and the phrasing used to create "that" feel. I began listening more to music of Joe "King" Oliver, Louis Armstrong, Bunk Johnson, Allen Toussaint, Preservation Hall Jazz Band, Professor Longhair, Dr John, Fats Domino, The Neville Brothers, The Meters, Buckwheat Zydeco, Harry Connick Jr., Louis Prima, Kid Ory, The Olympia Brass Band, Dirty Dozen Brass Band, Rebirth Brass Band and Galactic.     
            I got to see Galactic at Shibuya - O West just a few weeks after seeing Soulive at the same venue! Man, talk about being inspired and catching that vibe! Woo!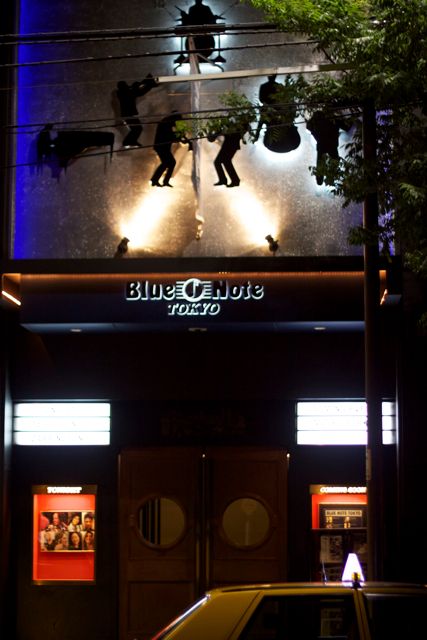 When I finally came home from Japan, I began playing again with The Perseverance Brass Band, Kid Dutch and His Blusicians, Kid Dutch's Harlem Madness Hot Jazz Orchestra playing 1920's/1930's music of The Cotton Club and recently with The Jazz phools playing Tradjazz, Zydeco, Second-Line and NOLA Funk as well as with many other types of groups around Tampa Bay, Florida. I began to step deeper into studying Afro-Cuban Son and Rumba music and percussion, which was one of the heaviest influencers to New Orleans music, Puerto Rican Bomba with Cukiara as well as listening to and watching Concert bands and more folkloric ensembles playing Cumbia, Bambuco, Porro, Llanera, Gaita, Joropo, Vallenato, Bullerengue and Rajaleña during my many trips to Colombia.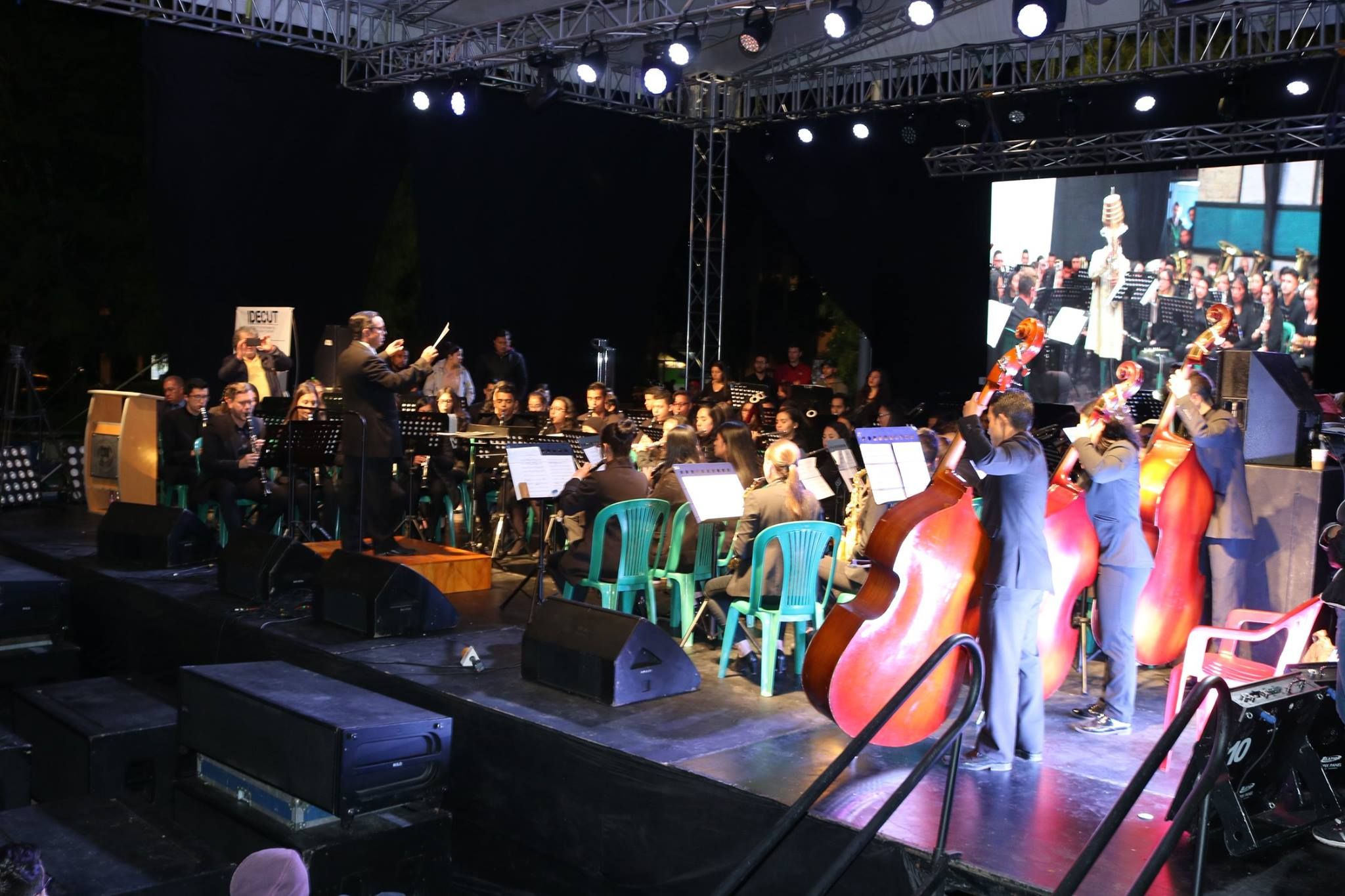 Maestro Germán Hernández Castro conducting the Symphonic Band of Tocancipá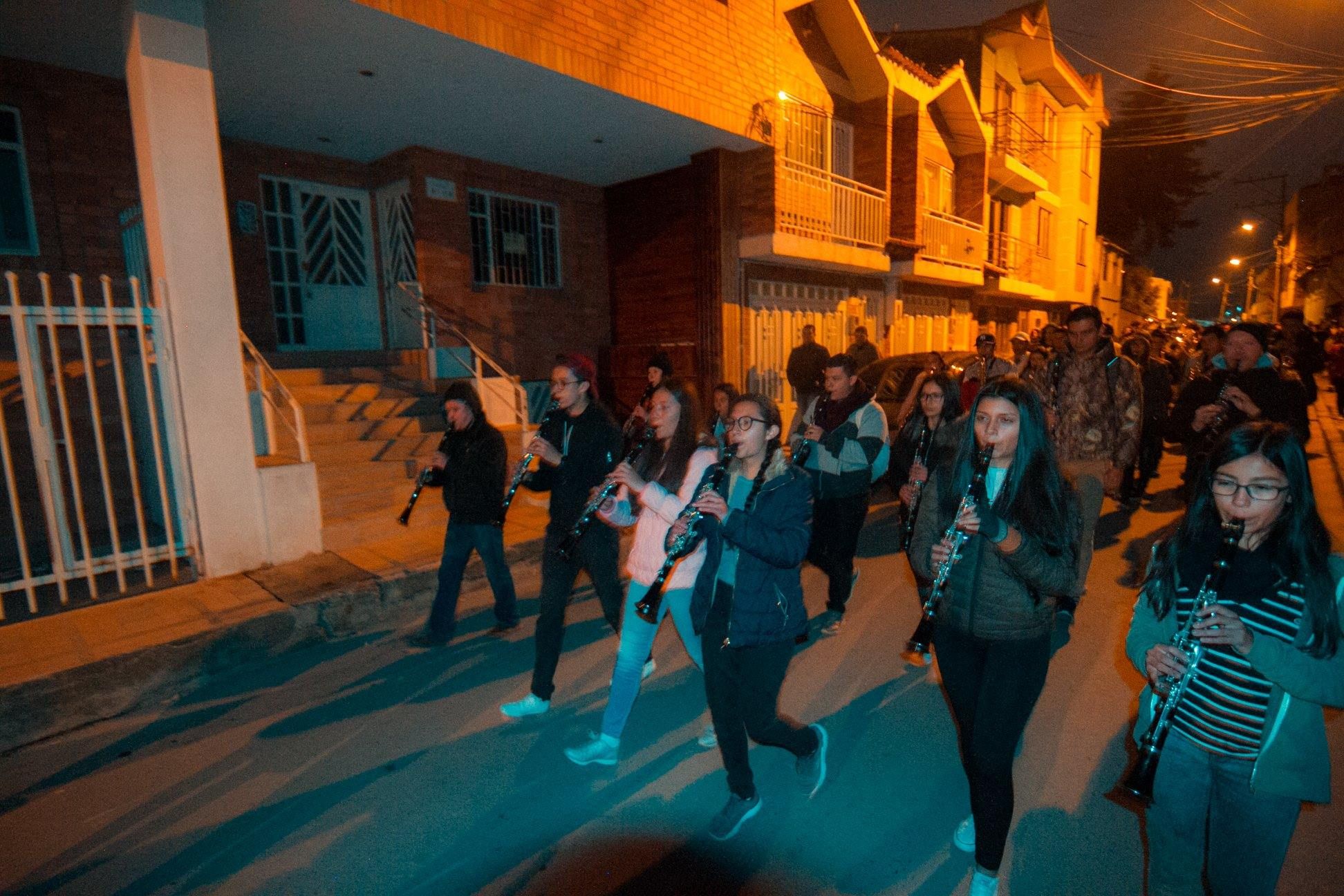 Banda Filharmónica Integrada of Tocancipá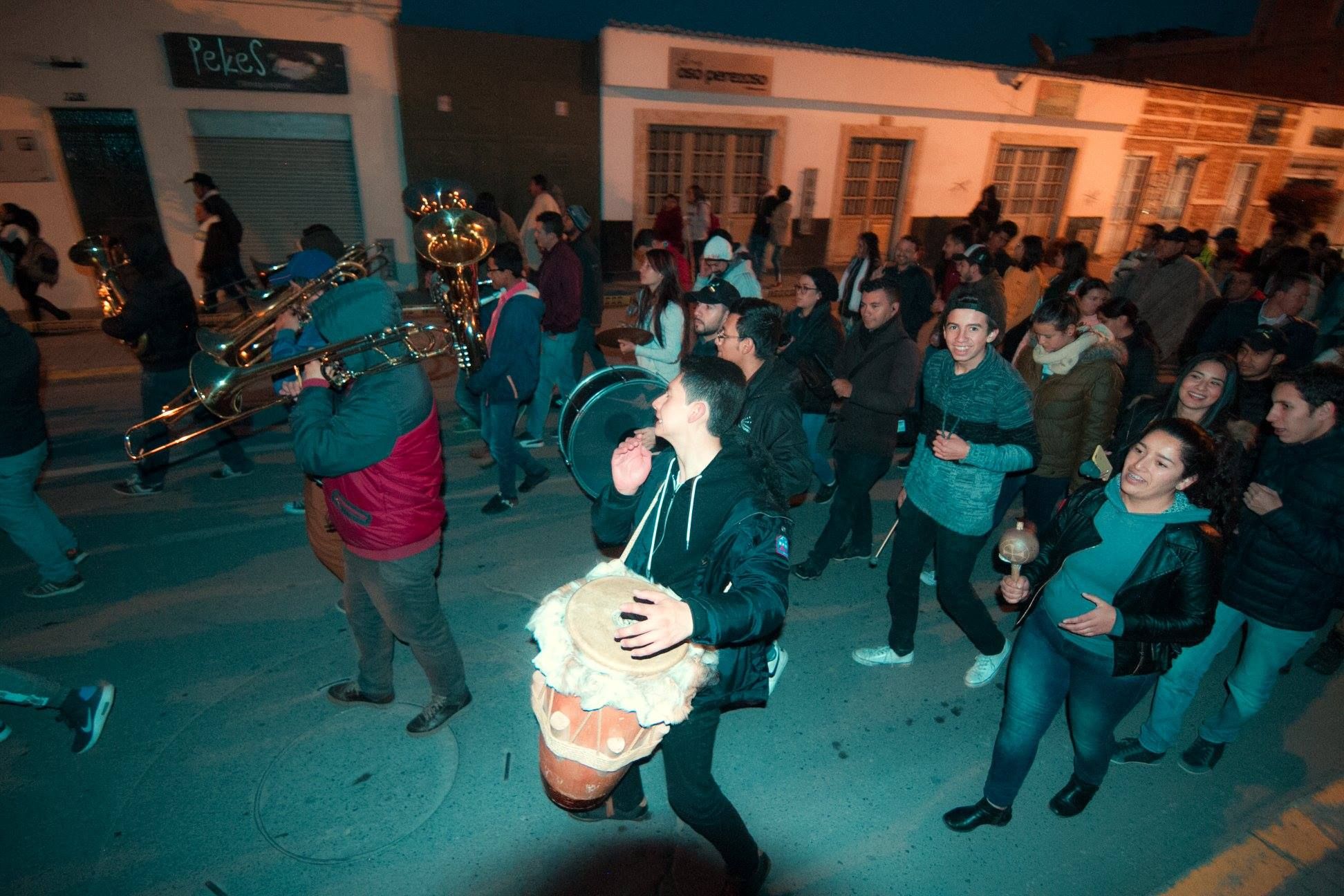 Waking up the neighboorhod at 4:30 AM to start the celebration
Last September I was in Tocancipá (north of Bogotá) for the Colombianidad festival and as the concert bands began to march around the town at 4:30 AM playing songs like "Cumbia Sobre El Mar", "Colombia Tierra Querida" and "Cumbia Del Caribe" but now hearing it played with clarinets, saxophones, oboe, sousaphones and of course trumpets, euphoniums, trombones and percussionists using a scotch bass drum, a metal kit/concert type snare drum, an alegre (Colombian hand drum), a tambora, large Colombian maracas and guasá, I begin to hear Colombia's influence on Zydeco and Second Line.
That old New Orleans music from the delta blues, the Cajun and Creole music to rag time and the jazz are all fusions with African, European and Native Indian influences from all over the Caribbean. From the worst of situations such as slavery where enslaved Africans were brought to NOLA from all around the Caribbean islands, Central America and South America to be sold, Indians being decimated by disease brought by the Europeans and being displaced by the French Indian wars against the Brits and the 13 colonies. Even through these horrible histories, the Africans shared their tribe's cultures of dancing, chanting, worshiping and food in Congo Square once a week every Sunday. Eventually the leftovers so to speak of all of these cultures including the French and later Creole and Cajun formed the gumbo (mixture) of what we know today as New Orleans music and cuisine. 
Thinking back to when I was a little kid at age 5, singing in my family's choir at Mt. Olive Baptist church in Columbia, SC where we had our own style back then as to harmonic arrangements and phrasings with my great-aunt (grand-aunt) playing Hammond B3 with the foot pedal bass and directing and arranging the choir's songs. When the preacher would began to get heated during the call and answer part of the sermon and my aunt would start to play the B3 pretty much in a second line format even with the push on the & of 4. The drummer, guitarist joined in. My cousins and a few other aunts (in the choir) would play tambourine and it was on! Completely second-line form and feel from the rhythm section but with our style of harmonizing. Then came the up tempo 2-beat shout chorus, kind of a fast zydeco. it was so connected to New Orleans but we had no idea.
If you're a drummer/percussionist (any rhythm section player really) playing any American music be it Rock, Funk, Country or Western, all corners of Jazz, Modern Rap, Blues, Gospel or old school Soul, old school rap from the golden eras of Hip-Hop and R&B, you gotta know about that NOLA music baby! That's the key!
The Jazz Phools at Zydeco Brew Werks in Ybor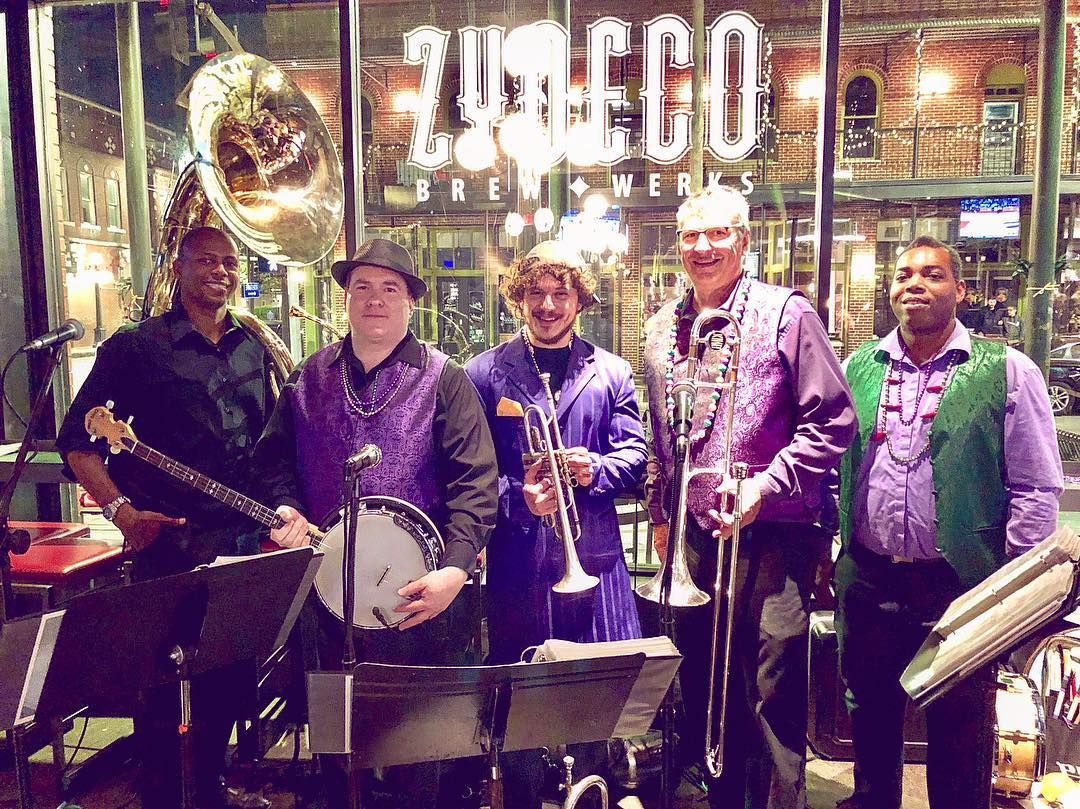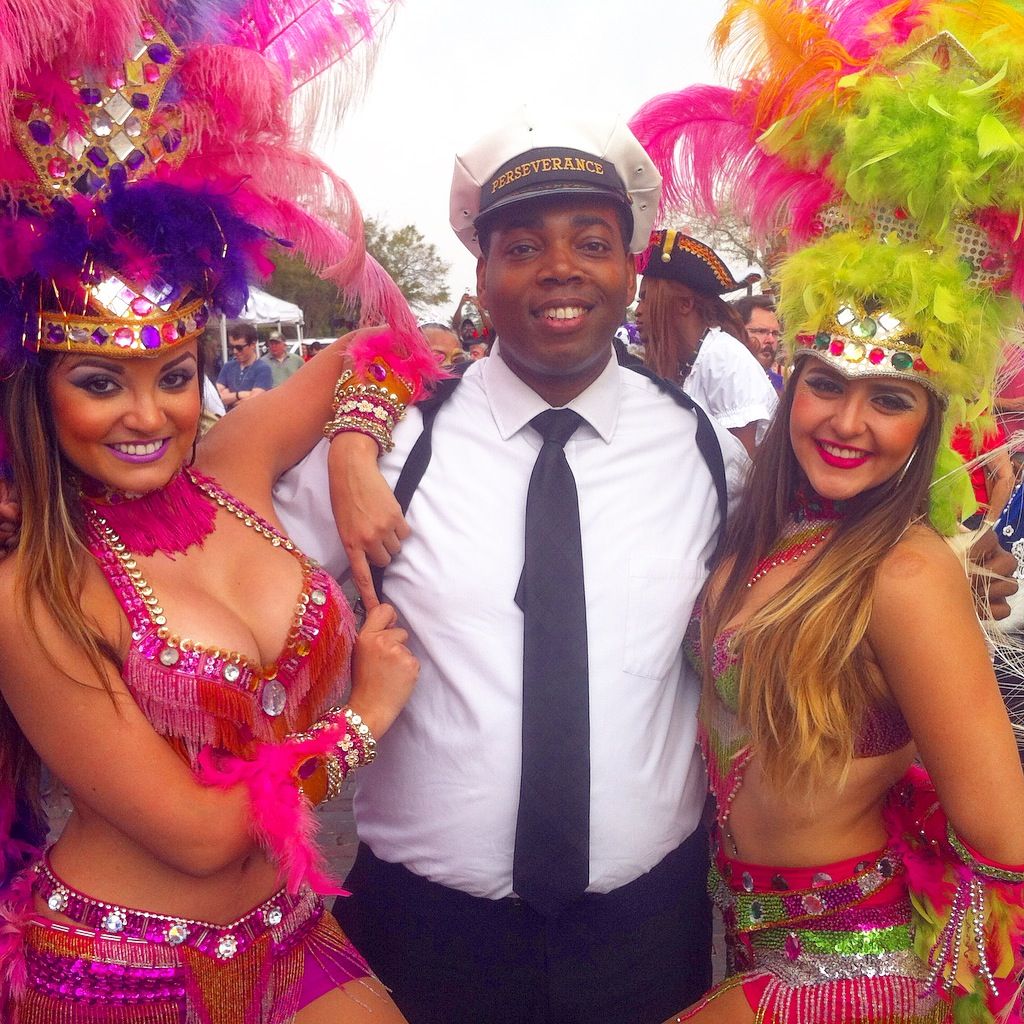 With Venezuelan dancers  from Divas Dancing Latin Show for Mardi Gras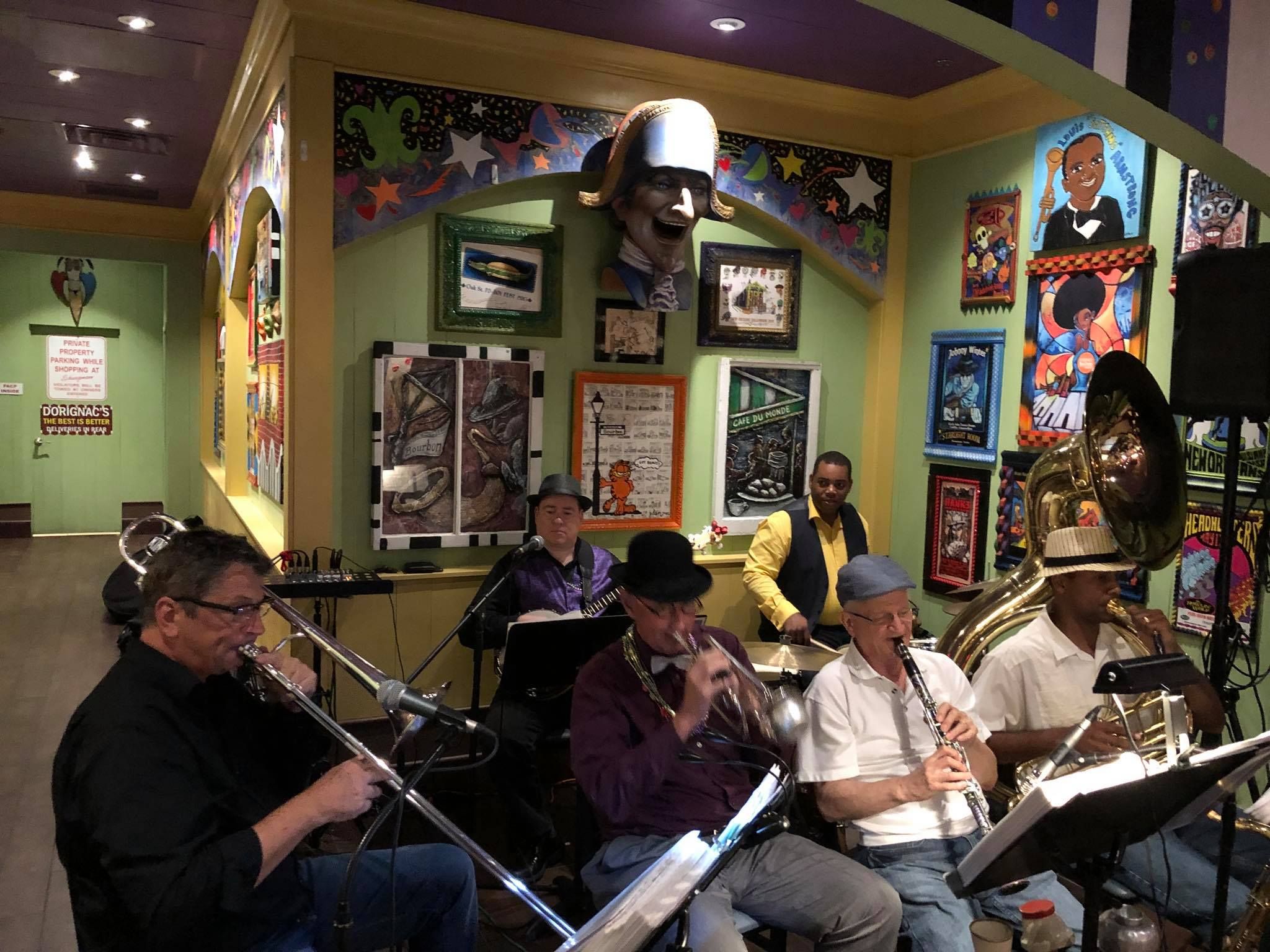 The Jazz Phools at Tibby's New Orleans Kitchen in Brandon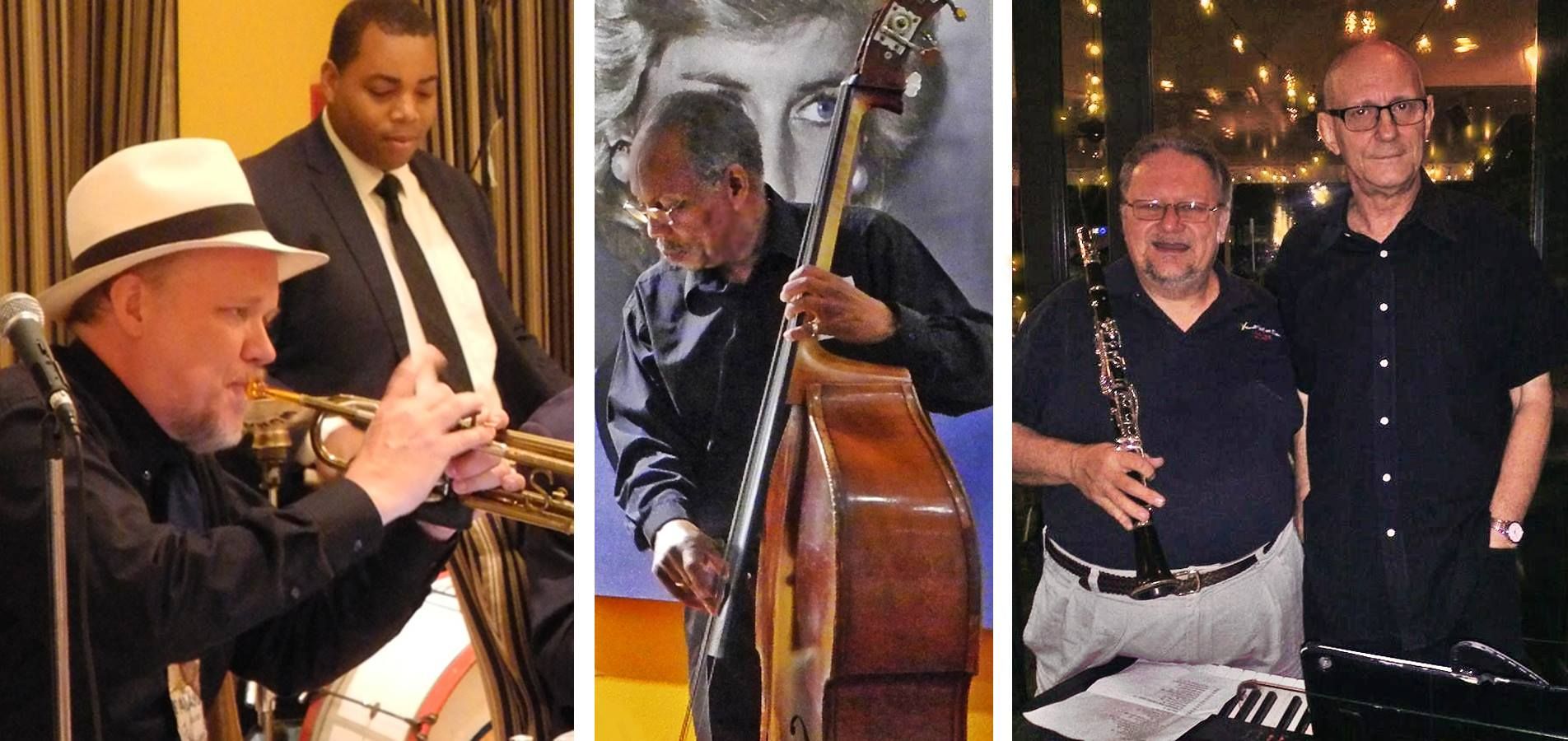 With Kid Dutch, John Lamb, Allan Vaché and Mark McKee