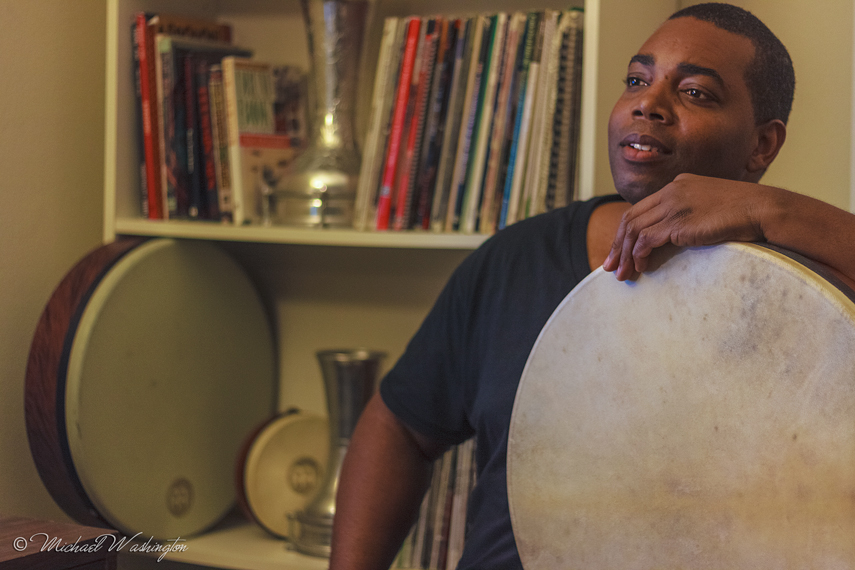 A fresh self portrait for the new year!

Happy new year everybody!
 
After coming off of a New Year's Eve concert with my band Wahh (an East meets West fusion Indian classical/folk & western R&B, rock, jazz and funk) and finally having a day or two of relatively cool and dry weather here in South Florida, it's a perfect time to play my frame drums! I do say relatively because it only got down to maybe 60oF last night and humidity of around 80% (yep, that's "Florida cold" ;) and today with a high of only 78oF. My Meinl frame drums with goat and calf skin heads are holding a higher pitch at the point where they are speaking very well along with a better separation between the bass of the doum, the highs of the tek & ka and this beautiful tone in the sweet spot. They are actually resonating fully to where just a slight touch to the shell will awaken the harmonics of the shell and head both together. If you have ever been around a camp fire with a very well headed drum (with skin), you know exactly what I am talking about!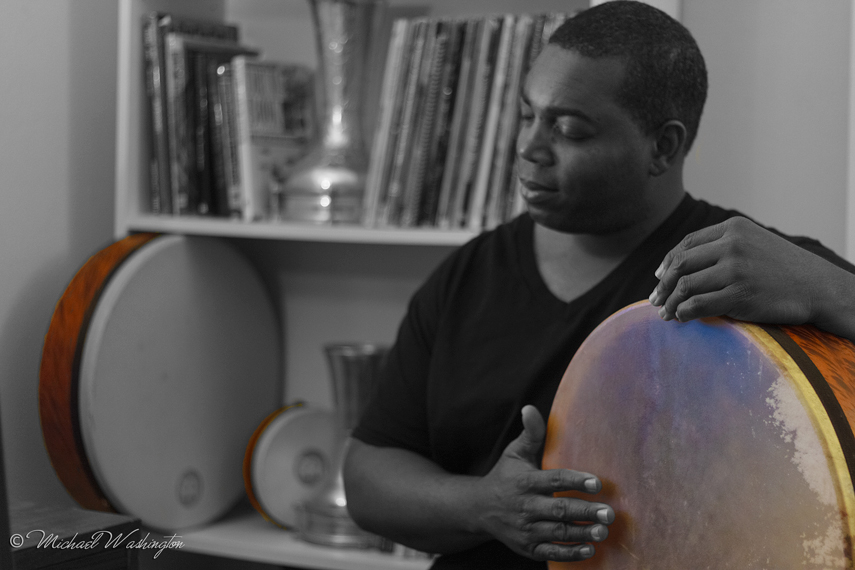 18" Meinl Mizhar headed with thin calfskin 
 
With the help of so much inspiration at the beginning of this year from the weather, the modern/contemporary music of artists/composers such as Yshay Afterman, V. Selvaganesh, Tigran Hamasayan, Avishai Cohen (the bass player), Eugene Frisen with Paul Winter's Consort, Trilok Gurtu's brand of fusion and of course Ustad Zakir Hussain; I am feeling the urge to work on some compositions. I have been blessed to play in Wahh with the tabla maestro Shankh Lahiri for the last 3 years as well as with sitar players Abhik Mukherjee and Rajib Karmakar. With all three being so deeply rooted in classical Indian music as well as with the fusion of Wahh, I have had the opportunity to come to a much better understanding of that classical music and how the interplay of fixed composition with improvisation staying within the ragga (scale) and taal (beat cycle) while using a kaida or improvising changing rhythm and using metric modulation and being sure the tihai comes back to sum or 1 (beat 1). A kaida is a fixed phrase where the phrase is always exact and only the sound changes on specific beats within the rhythm. Yea, a bit difficult to explain in words exactly especially seeing how the study and performance of classical Indian music, especially on tabla takes 1 lifetime of study and practice and if you are lucky, maybe you will get 2 lifetimes hahaha!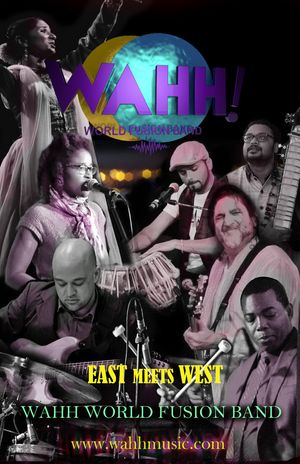 I am working on some compositional ideas inspired by Shankh Lahiri and also Trilok Gurtu's song "Seven Brings Return" and I am using this as a means of study to gain a better understanding of how to compose from a completely different point of view than the western way where we can just make a melody how ever we want and change time signatures within any measure (1 bar phrase of music) and even change the tempo at any given measure. I am understanding much better some of the rhythm theory thanks to learning Konnakol from Shankh-Ji and I have been studying solkattu for some time now from an excellent book/CD combo by percussionist Jarrod Cagwin titled "One By One: Exercises for Rhythmic Development". Solkattu (sol meaning syllable and kattu meaning bunch or group) is the system of names to represent the sounds playedon the mridangam  which is the predecessor to the tabla and konnakol  is the onomatopoetic
taal
(meter or beat cycle) system used to speak
the rhythms out loud while counting 
on the hand.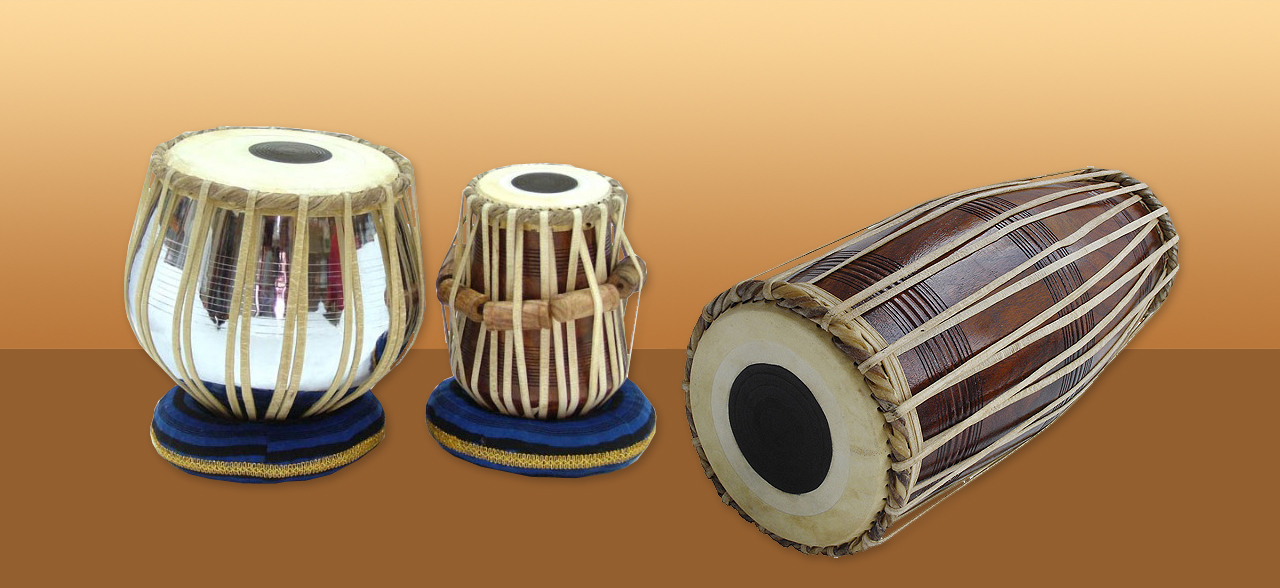 Tabla on the left and mridangam on the right.
                For example: for 1 beat we would say Ta, for 2 Ta ka, 3 Ta ki ta, 4 Ta ka di mi, 5 Ta di ki na thoum,    
 6 Ta ri ki ta ta ka and 7 Ta ka di mi ta ki ta. 
 
There are also other syllables that can be changed out but just to start, these are fine for the basics.
Music in general uses a combination of math and the science of physics to create sound but within Indian music, the compositions are very mathematical and the rules for the rhythm cycle and structure are very strict so it forces you to creatively improvise  by dividing the beat cycle into smaller parts then using fractions to change the speed of the rhythm within the the beat cycle. Is your head exploding yet? Take a deep breath haha!
Wahh playing "Kavi"
So for example, the composition I am working on is in 7 so it's a 7 beat cycle. Now, within that cycle, sure we can just  play it as 7 but also as 4+3, 3+4, 5+2, 6+1 etc. You can even take multiples of 7 and divide those up and create a longer phrase but it is very important that the numbers add up correctly and our rhythm phrase
will always come back to 1. 

Stay tuned here for some follow up video on how to use konnakol, and some playing examples of what I have so far in this composition which will be a fusion of Indian compositional ideas and north African/middle eastern instruments and the belly dance rhythm Darw Hindi which is in 7!
I am looking to have it morph into it's own
living work of art eventually!